Sacramento Archeological Society, Inc.
is proud to recognize the outstanding achievements of aspiring archaeologists and anthropologists currently enrolled in an accredited educational institution through its annual scholarship program. The Sacramento Archeological Society, Inc. (SAS) is seeking applicants for one or more scholarships. The total funds available allow us to award multiple scholarships typically from $500 to $1000.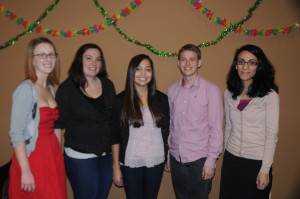 2013 scholars
Scholarship Application Information
Scholarships will be considered in archaeology and related fields for undergraduate and graduate students. Examples for which scholarships may be awarded include, but are not limited to, the following:
participation in a field school
obsidian hydration dating
a special project
a special need for project related materials and/or equipment
tuition for a field school
Requirements
Previous Experience Statement including a brief CV or Resumé.
"Why are you applying for this scholarship?" explanation
Description of your proposal
An itemized budget
One copy of your transcript(s)
Two letters of recommendation (These should be emailed separately from the rest of the application.)
Commitment to present at a Sacramento Archeological Society's public forum in the Sacramento area in January or February of following year.
Evaluation Criteria
Is the application complete?
Does the proposal promote the training of archaeologists?
Does the proposal support the collection and dissemination of archeological data?
Does the proposal promote accessibility of archaeological data to the public?
Is it likely that the project will be completed in 12 months?
 Scholarship Recipients
The Society is proud to recognize its scholarship recipients here and highlight the outstanding work each has done and plan to do.
Year
Name
School Attended
Field of Study
| | | | |
| --- | --- | --- | --- |
| 2005 | Ryan T. Brady | CSU Sacramento | Masters thesis research: Prehistoric Wetland Settlement and Mobility Patterns in the Mono Basin |
| 2005 | Anna Valdez | Sacramento City College | Achill Archaeological Field School in Ireland |
| 2006 | Amanda Bauer | Sacramento City College | Czech American Archaeological Field School |
| 2007 | Charlotte Cooper Sunseri | University of California Santa Cruz | Masters thesis research on modeling Exchange in Central Californias Prehistoric Economy |
| 2008 | Samantha Emmanuel | University of California, Berkeley | Archaeological Field School in Mycenae, Greece |
| 2008 | Kalie Sacco | University of California, Berkeley | Archaeological Field School in Mycenae, Greece |
| 2009 | Samuel Crenshaw | University of California, Berkeley | Nemea and Mycenae Field School in Greece |
| 2009 | Benjamin Harris | Sonoma State University | Masters thesis research on public archaeology projects in San Francisco Bay Area and their relationship to CRM policy and practices. |
| 2009 | Sheel Jagani | University of California, Berkeley | Pestas House Field School in Mycenae Greece |
| 2009 | Monica Nolte | San Francisco State University | Masters thesis research at the Smithsonian on establishing a better method for inferring activity from human remains found in archaeological sites. |
| 2010 | Gary Alexander | American River College | Flint Knapping Workshop |
| 2010 | Allison Barden | University of California, Berkeley | Field School in Guam |
| 2010 | Brandon Li | University of California, Berkeley | Field School in Japan |
| 2010 | Preeta Melelu | Sacramento City College | Field School in Yucatan |
| 2010 | Naomi Scher | Sonoma State University | AMS radiocarbon dating for masters thesis: A Geoarcheaological Assessment of the Potential for Buried Archaeological Sites in the Vacaville Area of Solano County, California |
| 2011 | Veronica Lim | University of California, Berkeley | Field School in Nemea, Greece |
| 2011 | Patricia Roberts | University of California, Berkeley | Field School in Nemea, Greece |
| 2011 | Ellie Maniery | University of Nevada | Field School in Great Basin |
| 2012 | Stephanie Chan | Stanford University | Denver University Amache Research Project |
| 2012 | Alexandra Levin | University of California, Berkeley | Mono Mills Field School, California |
| 2012 | Rory Ondracek | American River College | Catalina Field School |
| 2012 | Jessica Tudor | Sonoma State University | Clear Lake Artifacts Dating |
| 2012 | Erin Valadez | University of California, Santa Cruz | Zamartze Field School, Spain |
| 2013 | Heather Benham | California State University, Sacramento | 76 Draw Site field school, Deming, New Mexico |
| 2013 | Cassandra Brainard | California State University, Sacramento | Paleo-Indian field school, Oklahoma |
| 2013 | Antonietta Catanzariti | University of California, Berkeley | Excavation of Kamid el-Loz, Lebanon |
| 2013 | Kyle Lee-Crossett | Stanford University | Catalhoyuk Research Project, Turkey |
| 2013 | Kyle Steven Rabellino | Sonoma State University | Obsidian sourcing, Fairfield Osborn Preserve, Sonoma County, CA (Withdrawn) |
| 2013 | Allison Wolfe | University of California, Berkeley | Zooarchaeology and Field Ecology Field School at Eagle Lake, CA |
| 2014 | Antonietta Catanzariti | University of California, Berkeley | Survey of archaeological sites in Qara Dagh Valley, Iraqi-Kurdistan |
| 2014 | Kasey Cole | California State Chico | Zooarchaeology & Field Ecology Field School at Eagle Lake, CA |
| 2014 | Jesica Jayd Lewis | North Carolina State University | Palatine East Potter Project at Rome, Italy & Najerilla Valley Research Project at Camprovin, Spain |
| 2014 | Heather Macinnes | California State Chico | Aditu Servicios Arquelologicos Mortuary Archaeology Field School |
| 2014 | Bonny O'Neill | California State Chico | Betty's Hope Plantation Field School in Antigua |
| 2014 | Julia Prince | California State Chico | Stable isotope analysis of bone samples |
| 2015 | Allison Blair | University of Nevada, Reno | Spike Island Field School in Cobh, Ireland |
| 2015 | Derik Boyd | California State University, Chico | Analyzing patterns of trauma on human skeletal remains from post-Medieval communities in England |
| 2015 | Rachel Davies | California State University, Sacramento | Rimrock Draw Rockshelter Field School, Oregon |
| 2015 | Leah Hansard | University of California, Davis | Master-in-Training at Poggio Civitate Archaeological Project in Murlo, Greece |
| 2015 | Naomi Martisius | University of California, Davis | Analyze Neandertal Bones in France |
| 2016 | Roshanne Shirley Bakhtiary | University of California, Davis | Conduct stable oxygen isotopic analyses of ancient shellfish collected in Santa Clara County |
| 2016 | Amanda Dobrov | University of California, Berkeley | Analyze collection of African Amphora at American Academy in Rome from Palatine East Pottery Project. |
| 2016 | Samantha Dunham | University of California, Davis | Study Neandertals in Belgium at the site of Trou Al'Wesse |
| 2016 | Sarah A. Hall | California State University, Chico | Study adult skeletons from SCCVMC collection at Cal State University, Chico |
| 2016 | Anna Khrustaleva | University of California, Santa Barbara | Excavation at Audrey-North Site, a lower Illinois Mississippian River Valley occupation site |
| 2016 | Susan E. Lagle | University of California, Davis | Research of archaeological (Neandertal) assemblages in France |
| 2016 | Mallory Melton | University of California, Santa Barbara | Attend the Boston University's Wood Identification Workshop |
| 2016 | Jason Miszaniec | University of California, Davis | Radiocarbon dating of samples from Difchahak site at Shaktoolik, Norton Sound, Alaska |
| 2016 | Jewell Cora Soriano | University of California, Berkeley | Mapping project at Taraco Peninsula, Bolivia |
| 2017 | Jennifer Black | University of California, Berkeley | Palatine East Pottery Project in Rome. |
| 2017 | Lucia Diaz | University of California, Davis | Field school in Sierra Nevada Mountains |
| 2017 | Erida Ebel | California State University, Davis | Field school in Alaska |
| 2017 | Guilia Gallo | University of California, Davis | Excavation in Serbia |
| 2017 | Patricia McNeill | University of California, Davis | Excavation in Germany |
| 2017 | Karlene Shippelhoute | University of California, Berkeley/John Hopkins University | Jezrell Valley Regional Project, Israel |
| 2017 | Kevin Smith | University of California, Davis | Research bows ad atlatls |
| 2017 | Sara Watson | University of California, Davis | Examine Nelson Bay Cave lithics at Chicago Field Museum |